In September 2013, Danielle Press suffered life-threatening injuries in a boating accident off the coast of Key Biscayne – the very place where her father is police chief.
Danielle, 26 at the time, was rushed to Ryder Trauma Center with several deep, lacerating injuries to her upper leg. Trauma surgeons immediately operated on Danielle, who had lost a lot of blood and nearly died.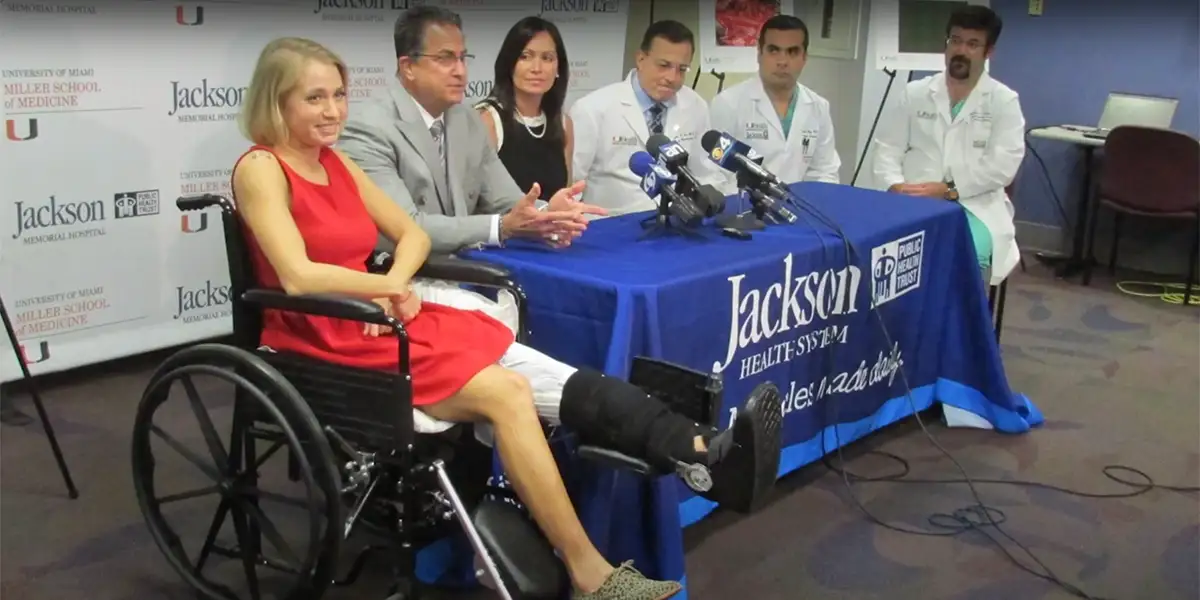 The medical team at Ryder Trauma, led by UHealth – University of Miami Health System trauma surgeon Gabriel Ruiz, MD, and UHealth orthopaedic trauma surgeon Fernando Vilella, MD, saved Danielle's life.

The sciatic nerve in Danielle's left leg, which controls the majority of movement and sensation in the leg, had been completely cut and separated. Danielle, an active college graduate who had traveled extensively in Asia teaching English, was told she may lose her leg and never gain feeling or movement again in her leg because repairing the sciatic nerve – the largest nerve in the human body – is one of the most challenging nerve surgeries.
But Allan Levi, MD, a UHealth neurosurgeon at Jackson Memorial Hospital, obtained approval from the FDA to perform a unique procedure on Danielle, combining standard nerve grafting with her own Schwann cells, in hopes of regenerating the nerve and restoring her function. Dr. Levi also led the world's first Phase 1 of FDA approved clinical trial, through The Miami Project to Cure Paralysis, using a patient's own Schwann cells to treat paralysis, so he felt this would give Danielle the best chance at some level of recovery.
The world's first procedure, performed in October 2013 at Jackson Memorial Hospital, was a success – and the progress Danielle has made since then has been remarkable.
In the nearly four years since the near fatal accident, Danielle moved to Taiwan, where she climbed one of the highest mountains and volunteered to carry water jugs to temples. She visited one of the world's largest caves in Borneo, swam in turquoise lagoons in the Philippines, camped all over Japan, became certified as an advanced diver, and dove with a school of hammerhead sharks. She has become a writer, and her writings about the accident, her recovery, her passion for fitness, and travel have been published on several websites.
Danielle recently married her longtime boyfriend, Jeff. The couple is living in the Jamaican countryside, working and learning on a vegetable farm. Their next adventure will bring them back to North America, where they plan on following their dreams of opening a "Farm to Table" bed and breakfast lodge.
All this, she says, would not have been possible without the second chance she was given at Ryder Trauma.
"My gratitude for the staff, the doctors, the nurses, and the specialists knows no bounds," Danielle said. "They played such a paramount role in my recovery and I will never forget them."