Motorman for Miami-Dade Police Recovers After Life-Threatening Car Accident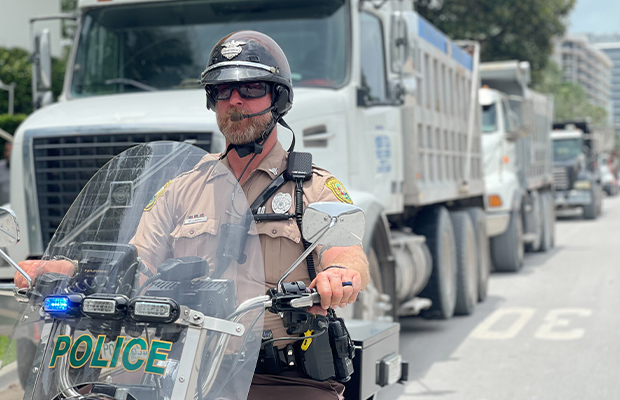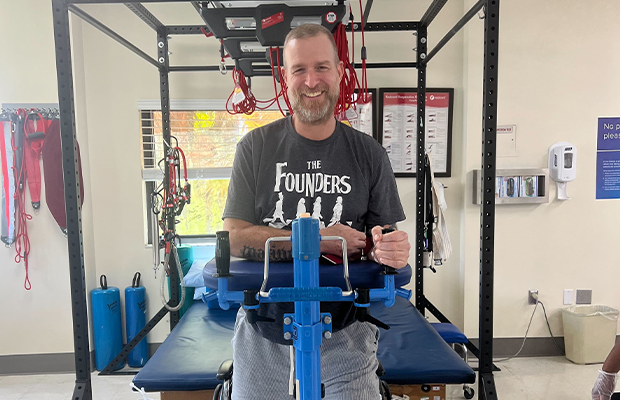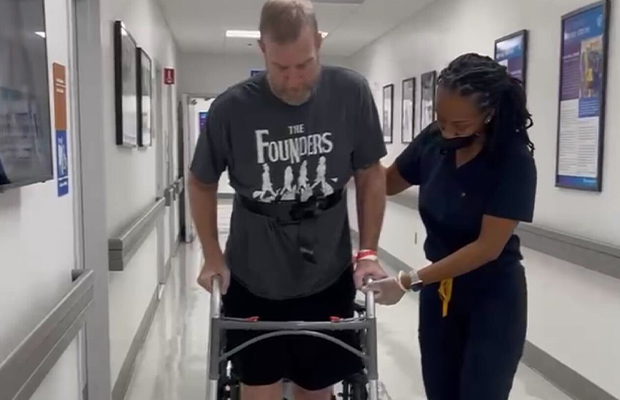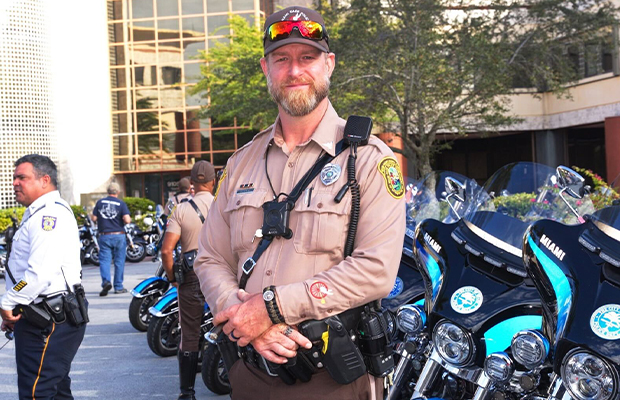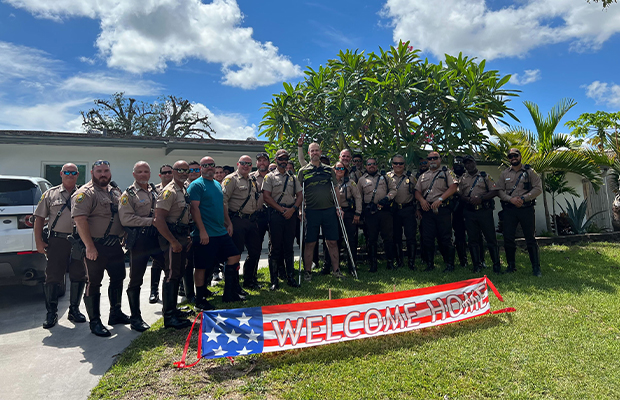 By: Krysten Brenlla
A few seconds is all it took for Matthew Larsh's life to flash before his eyes.
On April 21, 2022, Larsh, a motorman for the Miami-Dade Police Department, was driving his motorcycle at the intersection of Northwest 36th Street and Northwest 53rd Avenue when he collided head-on with an SUV. At impact, he was flung 20 feet into the air.
Larsh, 50, says he has no recollection of the accident that left him with extensive injuries throughout his body.
"If you ask me what I remember about that day, it's eating breakfast that morning and packing my bike to go to work, even though I was conscious after the accident," Larsh said. "I guess that's a defense mechanism our bodies do for us."
He was rushed to Ryder Trauma Center at Jackson Memorial in critical condition, where he was diagnosed with a broken toe, a dislocated elbow, and a fractured knee and tibia.
Immediately upon arrival, a trauma team led by Antonio C. Marttos, Jr., MD, a UHealth – University of Miami Health System trauma surgeon at Ryder Trauma, evaluated the need for emergency surgeries. They worked to identify possible sources of internal bleeding, and placed Larsh on a ventilator to support his breathing.
Initial tests and X-rays ruled out major bleeding in the abdomen and chest, and after blood transfusions, Larsh's vital signs were responding. After his fractures were stabilized, he was quickly taken for a scan that detected other life-threatening injuries, including a contained ruptured aorta and a fractured pelvis.
"Our team's priority was to stop the bleeding, stabilize the bone fractures and the pelvis, and create a plan of care with our specialists to prioritize the treatment of his multiple injuries," Dr. Marttos said. "We have an immense amount of respect and attachment to the first responders who help our community daily, and we are always ready to support and treat them in a critical moment like this one. Matthew is a warrior, and our trauma team did what we needed to do so he could have a chance."
After Larsh was stabilized, Tony Shao, MD, a UHealth vascular and endovascular surgeon at Jackson Memorial Hospital, got to work. Larsh needed his ruptured aorta repaired immediately, or he could die.
"Some patients with these types of injuries typically pass away at the scene of the accident, or they barely make it to the hospital," Dr. Shao said.  "The imminent threat was to his aortic injury, but in Matthew's case, the injury did not freely rupture. Our team successfully placed a stent in his aorta, repairing it without having to open his chest."
Urologists and orthopedic surgeons were also essential to repair Larsh's injuries to his pelvis, bladder, and upper and lower extremities.
Six days after arriving at Ryder Trauma, the orthopedic team performed a crucial surgery on Larsh's elbow. One week later, the urologists fixed his bladder and repaired his pelvis with titanium plates and screws.
Larsh was discharged on May 11, 2022 after nearly a month in the hospital.
"There are days where I struggled – the first few days and months after getting home were hard," Larsh said. "I've always been physical and fit; I was always the guy who lent a helping hand – and here I was, the one being taken care of. It was tough."
After just two months of physical and rehabilitation therapy, Larsh started walking again.
On January 16, nine months after the accident, Larsh returned to light duty work in the Kendall District station.
He is still undergoing physical therapy every week, pushing for a full recovery. Larsh credits the support he received from his partners on the force, friends, family, and wife for helping him throughout his journey.
"The men and women of the Ryder Trauma intensive care team – they are amazing. I was like humpty dumpty, and they put me back together," Larsh said.
"I'm so grateful to Jackson for everything they did for me – I'm alive today because of them."