Woman Overcomes Medical Setback and Recovers from a Traumatic Car Accident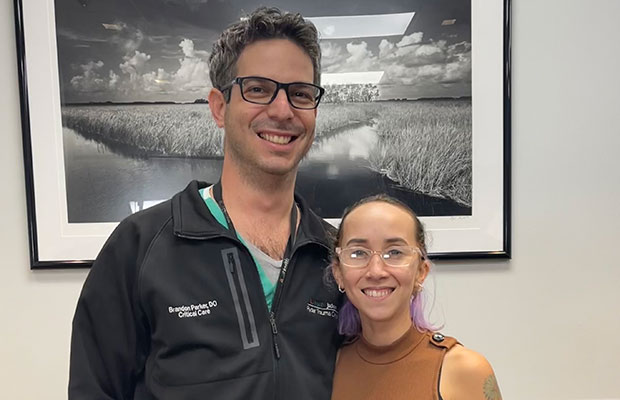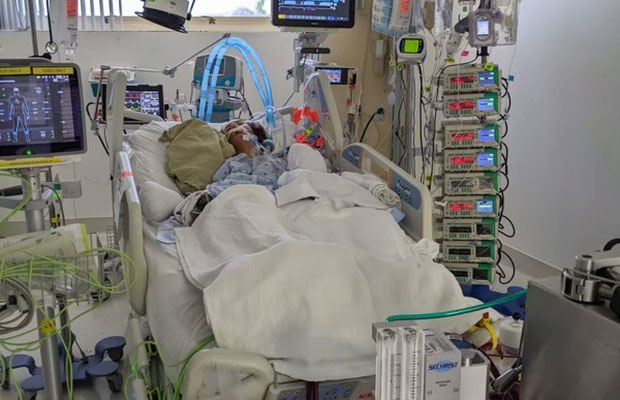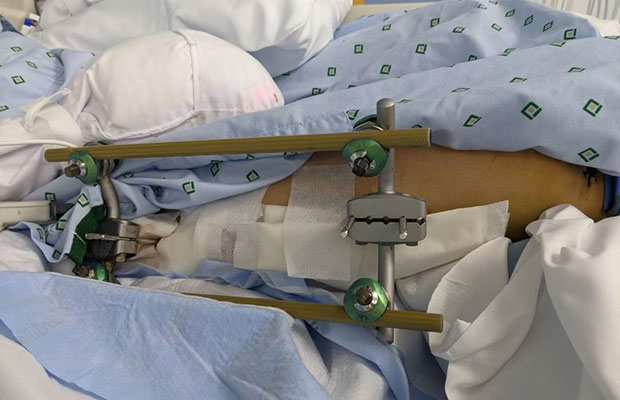 Woman Overcomes Medical Setback and Recovers from a Traumatic Car Accident
When Grisel Carmenaty, 28, looks down at her leg, she's reminded of how fortunate she is to be alive.
On March 24, she was riding her moped when a distracted driver hit her. The impact sent her flying into the air and onto the driver's vehicle.
"I called my husband to let him know I was hit by a car and was being taken to the hospital," Carmenaty said. "I was in some pain but thought I was fine, and I would be in and out of the hospital in a couple of hours."
She was rushed to Ryder Trauma Center at Jackson Memorial, where she was diagnosed with a fractured right femur and vascular trauma to her groin.
Carmenaty was scheduled for surgery the next day.
As Fernando Vilella, MD, director of orthopedic trauma at Ryder Trauma and a UHealth – University of Miami Health System orthopedic surgeon, was about to begin operating, Carmenaty's condition began to deteriorate.
"A femur fracture is a limb-threatening injury. Not only is it crucial to the body's physiology, but it also stores a lot of blood," Dr. Vilella said. "We had to act quickly and stabilize her injury or risk losing the limb and potentially her life."
Dr. Vilella used an external fixator to temporarily stabilize her femur. He postponed her surgery until her condition improved.
Carmenaty was taken in for a computed tomography angiography that detected a massive pulmonary embolism (PE), a potentially life-threatening condition in which one or more arteries in the lungs become blocked by a blood clot.
The PE was causing the right side of her heart, one of her lungs, and kidneys to fail. Carmenaty was quickly transferred to the trauma intensive care unit.
"Unfortunately, Grisel's PE was not amenable to surgery because of its location, and we had to consider some other options if we were going to have any chance to save her life," said Brandon Parker, DO, trauma and burn ECMO provider for Ryder Trauma and a UHealth critical care physician.
After consulting with Carmenaty's medical team, Dr. Parker placed her on VA-ECMO, a temporary mechanical circulatory system that provides complete and immediate cardiopulmonary support to help alleviate the pressure on her heart and improve her blood flow. Ryder Trauma is one of the few centers in South Florida to have immediate access to the VA-ECMO system.
Carmenaty was then transferred to a cardiac surgery intensive care unit at Jackson Memorial Hospital to be closely monitored.
After a few days, she was taken in for a transesophageal echocardiogram, which passes a specialized probe through the esophagus and uses sound waves to create pictures of your heart, to see how her heart was responding to the VA-ECMO. The results were positive. The right side of her heart and lungs were functioning again.
While still on VA-ECMO, Carmenaty underwent a successful embolectomy to remove the PE. She came off the mechanical circulatory support system soon after.
Ten days after her accident, she was well enough to undergo an open reduction and internal fixation surgery to repair her fractured femur.
Carmenaty was discharged on April 20 after nearly a month in the hospital.
Over the months that followed, she received rehabilitative care at Christine E. Lynn Rehabilitation Center for The Miami Project to Cure Paralysis at UHealth/Jackson Memorial, and slowly progressed from using a wheelchair to a cane.
"Grisel overcame a near-death experience. Her case was fairly complicated and required the involvement of many teams at Jackson," Dr. Vilella said. "Fortunately for her and many other patients, we're capable of providing a continuum of care to help get them back to where they were before coming to us."
Today, Carmenaty has recovered from her accident and has returned to work.
"Because of the amazing team at Ryder Trauma and Jackson, I'm alive today," she said. "I can't thank the nurses, doctors, and support staff enough. They were all incredible."