Young Man Recovers From Traumatic Brain Injury at Lynn Rehabilitation Center After Hitting a FedEx Truck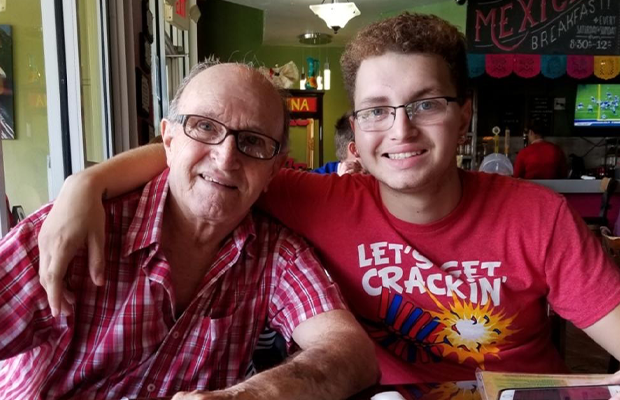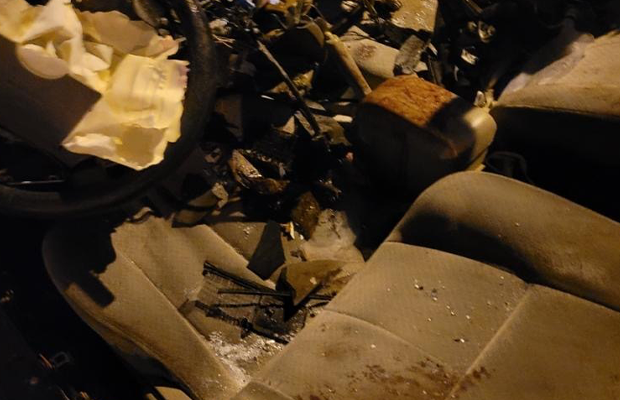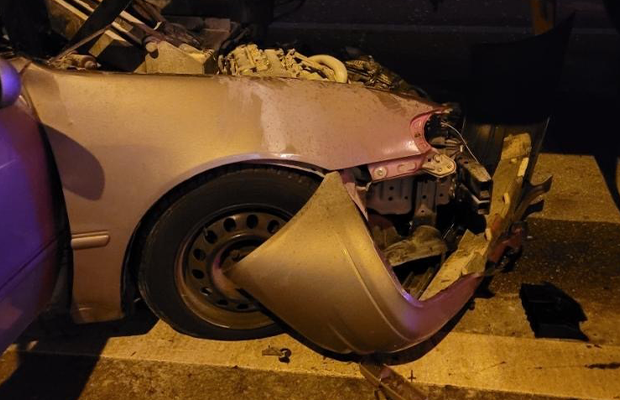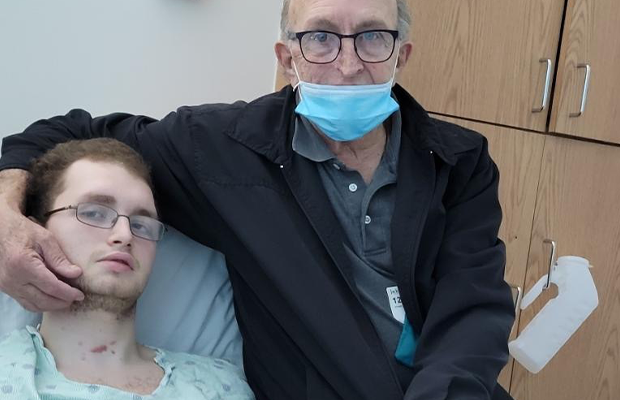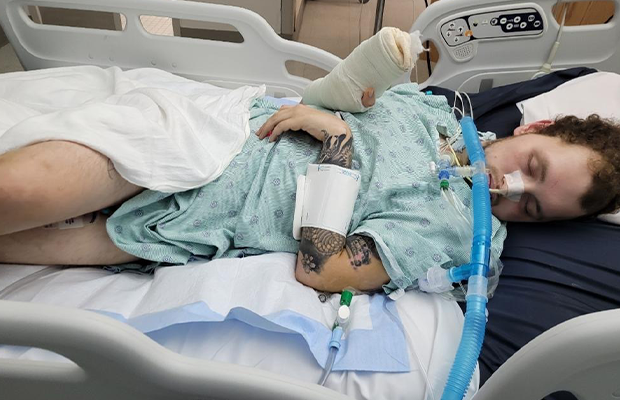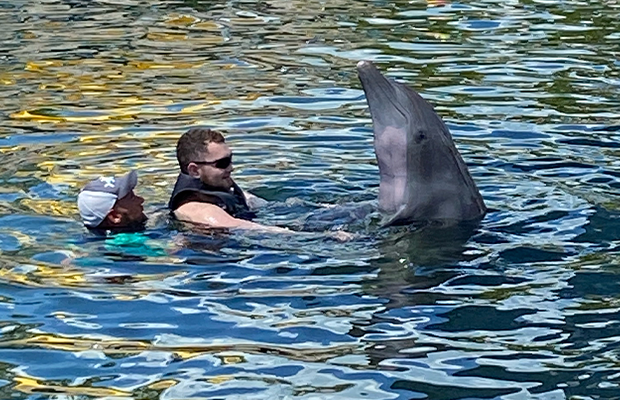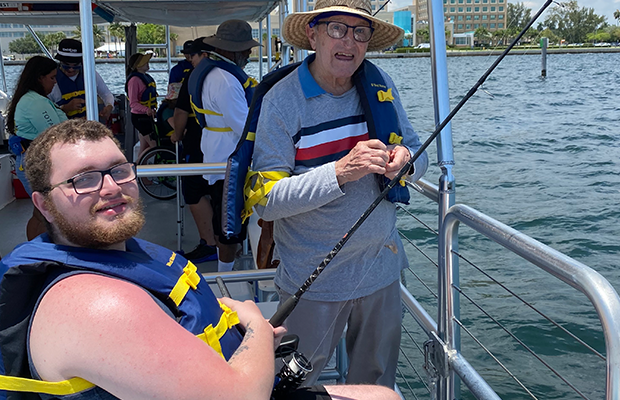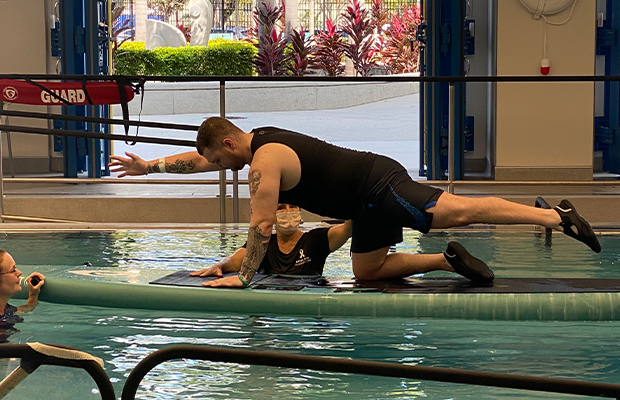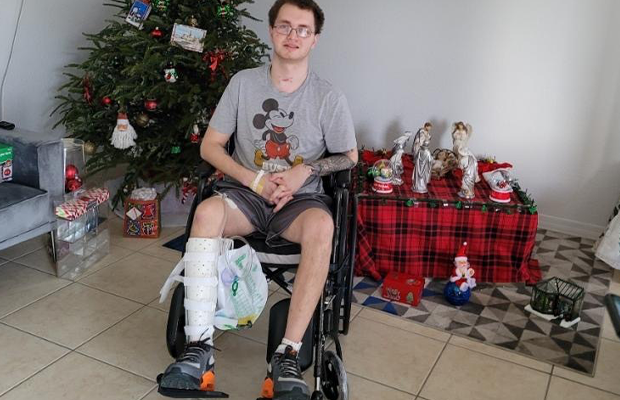 By: Krysten Brenlla
When Angel Armas, 23, tries to think back to September 13, 2021, he doesn't remember a thing – he just knows he's lucky to be alive.
On that Monday afternoon, Armas, then 21, was driving to work when he collided with a FedEx truck. The force of the impact totaled his car, and left him severely injured.
Armas was rushed to Ryder Trauma Center at Jackson Memorial with multiple fractures to his upper and lower extremities and a traumatic brain injury.
"We received a call from Jackson that our son was in a car accident, and we completely broke down," Lucia Armas said. "We went to the accident site, and the car was destroyed. This all happened during the COVID-19 pandemic, so we couldn't see him while he was in the hospital – we could only imagine the extent of his injuries."
For the next four months, Armas remained in Jackson Memorial's intensive care unit while recovering from his injuries. He was in a medically induced coma for two weeks.
"When I first met Angel, he was comatose," said Maria Roses-Garcia, a senior occupational therapist at Jackson Memorial. "But I saw that he started following commands and was moving; I knew he was in there and we had to help him."
Armas was discharged from the hospital on December 17, 2021, but required intense rehabilitation therapy to relearn how to walk, talk, and eat. He also needed neurological therapy to help him regain his long-term and short-term memories back.
"I don't remember anything about my accident – all I remember from that day is driving to work," Armas said. "After that, I remember waking up in the hospital, extremely confused."
A few days after leaving Ryder Trauma, Armas was admitted into Christine E. Lynn Rehabilitation Center for The Miami Project to Cure Paralysis at UHealth/Jackson Memorial with the help of Roses-Garcia and his acute care team at Ryder Trauma.
When he first arrived at Lynn Rehabilitation Center, Armas could not move his left hand or wrist, and he relied on a power wheelchair to get around. He was suffering from extreme spasticity, a condition in which the muscles become stiff, and truncal ataxia, which affected the way he controlled his movements. He also continued to struggle with short-term memory loss.
"Angel is our only son and the most important part of my life," Lucia Armas said. "With the support of his therapists and family, he fought every day to get better and stronger."
Armas required serial casting, a procedure used in therapy to strengthen and lengthen his muscles to regain mobility in his upper and lower extremities. He also needed intense occupational therapy to relearn how to stand, shower, dress, and feed himself.
"When Angel first got to us, we worked with him on being able to use the bathroom on his own by helping him get in and out of the shower with a chair, and on and off the toilet," said Neil Batungbakal, an occupational therapist at Lynn Rehabilitation Center. "As he started gaining more strength, we slowly started transitioning the chair out. Now, Angel is completely independent with everything self-care related."
After four months of rehabilitation therapy, Armas reached several major milestones – he began to move both hands, walk with the help of a walker, eat solid foods, use the restroom on his own, and regained most of his memory.
After seven months of therapy, he transitioned from a power wheelchair to a walker, and exceeded all of his occupational therapy goals – he relearned how to feed himself, how to take his own showers, and use the restroom on his own.
On January 6, 2022, Armas was discharged from Lynn Rehabilitation Center, and began outpatient therapy to continue working on his movements with the help of a cane instead of a walker.
"He's going out, he's making friends – he's back, and he's a completely different person from when I met him," Roses-Garcia said. "He's been given a second chance."
Today, Armas is meeting with physical therapists at Lynn Rehabilitation Center regularly to help him improve his balance and stability, and is working toward transitioning back into the life he knew before his accident.
Armas hopes to continue getting better and stronger, so that one day he can get behind the wheel again, work, and live an independent life.
"The care at Lynn Rehabilitation Center and at Jackson has been amazing," Armas said. "I wouldn't want to be anywhere else."